I made some changes to the virtual cache confirmation page on my Austin Explorer site. The layout is a bit improved. Yes, I know it's still not great, but I'm not a designer and I don't have that much time to devote to it!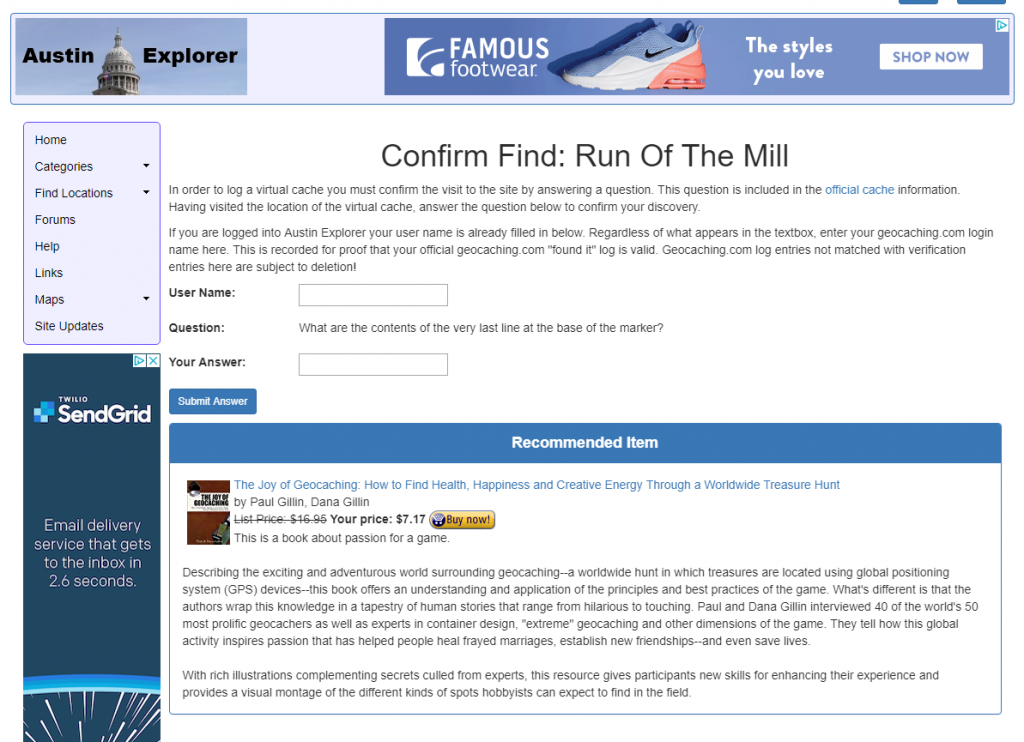 Previously, AustinExplorer.com could only verify finds of virtual caches located within the Austin area (it's a long story). With the changes just rolled out, any virtual cache owner can make use of the tool to verify cachers' finds without having to use manual emails to do so.
What's a virtual? What's a cache? On the Geocaching.com site there is a type of geocache (a hidden item found with the use of GPS receivers) that does not use a physical container. Instead, finders have to navigate to the right location and then answer a question based on some clue that was present at the virtual cache site. For some time now Geocaching.com has not allowed any new virtuals to be created, but exiting ones were grandfathered in.
An example usage of the auto-confirm page would be a cacher who goes to find my Run of the Mill Cache. Along with the coordinates to the cache location there is a question that needs to be answered to log the cache find and a link to my site to do so:
A click on the auto-confirm link brings the cacher to the relevant page. The user supplies their Geocaching.com name and the answer and gets confirmation. The cache owner gets an email so they know that user X that just logged a find on Geocaching.com actually did find it.
If you are one of the few virtual cache owners who are growing a bit weary answering emails for virtual cache finds get in touch with me and we'll set you up to automate things.
Update (5/19/2019)
Virtual caches remain a grandfathered cache type on Geocaching.com, but there is a window of opportunity to be one of the lucky few who own and maintain one. Geocaching.com has announced a Virtual Rewards 2.0 promotion through which 4,000 new virtual caches will be authorized. There is some eligibility criteria that I can't meet, but if you can then consider registering to get a slot and then you can use AustinExplorer.com to handle some of the maintenance requirements for your cache. The deadline to apply is June 1, 2019.